November 24, 2016
Elizabeth, Family, Holidays
No Comments
Every year at this time, we pause, and think deeply about our lives & all we have to be thankful for.
For the LaGreca's, it's certainly not the first time in the year that we pause to be thankful. Each night as we gather around our table, we pause to pray as a family. It took awhile but we encouraged both boys to take turns saying grace before we enjoyed our meal.
"Dear God…Thank you for…"
I love hearing the boys pray. They have a list of 'thanks' and then a list of 'prayers/praying for'. There have been many times when their prayers are surprising and so thoughtful 🙏🏻❤️.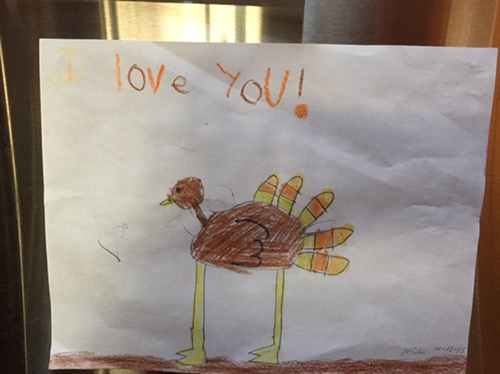 (Art by Nicholas from a few years back:  I found on Grandpa & Grandma's refrigerator a few weeks ago 💙)
Here are just some of my thoughts as we prepare to celebrate a meal of Thanks with our family.