05.18.17
Above: These six poses (photos from the professional photographer that I will get in high quality to print) are quite possibly the cutest shots of Grace to date.  These 6 rank up there with the 12 shots of Nicholas in the Idaho sprinkler (some of you may know the frame that I am talking about, that has been hanging in our bedroom for 8+ years now).  Grace is standing in Auntie Dani's boots with her hand-made (also, Auntie Dani) baby's breathe crown and her little white flower girl dress.  I love ALL six poses – this girl!!!
*The Wedding and Reception*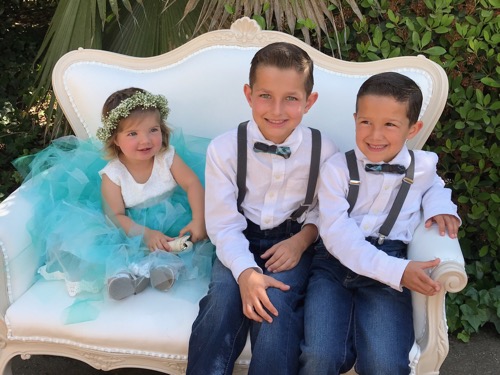 Honestly, I couldn't have asked for a cuter set of 3 kids. Wow!! They pulled it together and REALLY came through on their duties & their looks!! I thought their outfits really were perfect (and I wasn't 100% sure how it would all turn out. You know me — and fashion. We don't really mingle, all that well).