05.16.17
*The Wedding Day Prep* (4/21 Morning)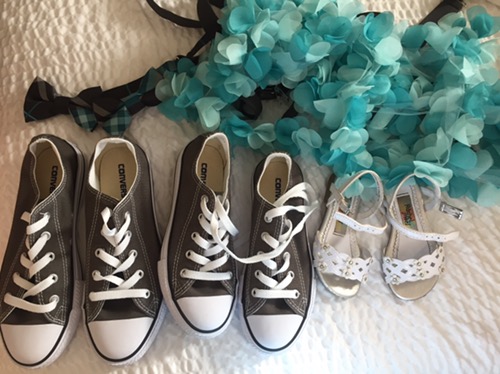 (Above: The Little People shoes)
Make-up and Hair…all morning! (oh, and mimosas, of course)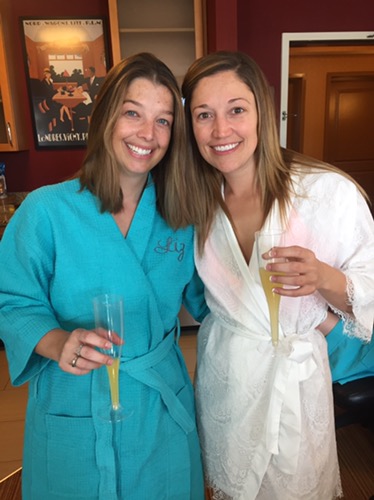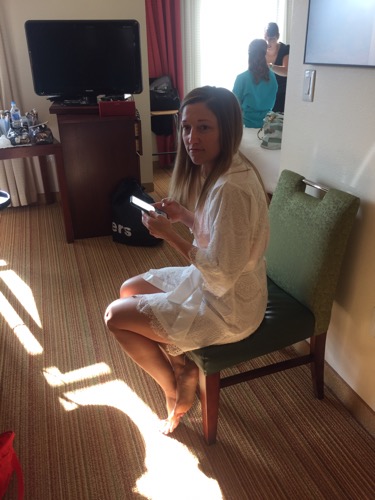 Above: The Bride hanging out, waiting her turn for make-up and hair.
Below: Bridesmaid Kristin all done up!
Gracee wanted to feel included – so she took her turn in the chair with the hair stylist.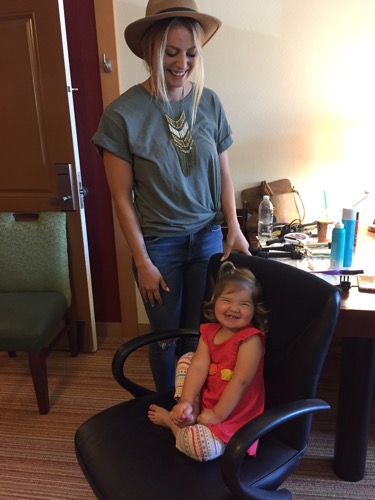 Below: Grace tells Auntie Steph that she will be having a 'baby boy' this summer (it's a surprise, so no one really knows!)
(One quick shot of Neal getting ready for the BIG day…I wasn't with the guys, but Joe sent this pic)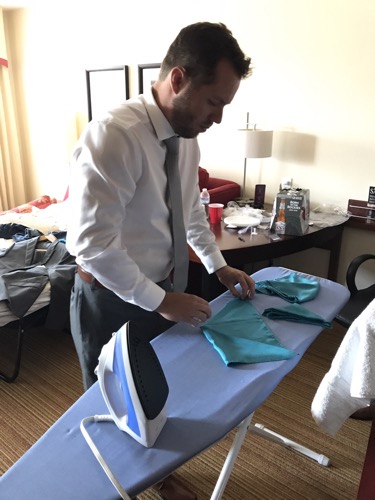 Below: Maid of honor, Lisa, and her new best friend, Grace.
Just after noon, we all (the girls) headed over to the venue to enjoy the Bridal Suite and get our dresses on (Lots and Lots of pictures to prepare for…)
The flowers were beautiful –  perfect with colors and they looked amazing with the venue.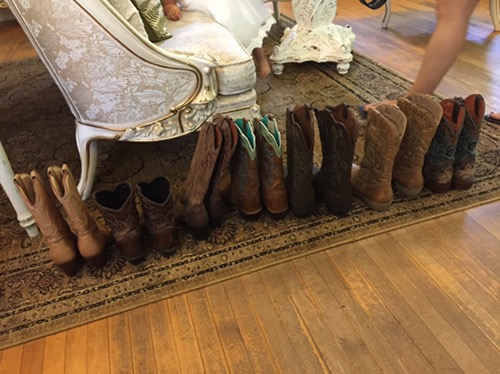 All the goodies for the kiddos.  A surprise sign for Uncle Neal (Nicholas to carry down the isle), Grace's flower girl basket and AJ's ring pillow.
I love this shot with all our boots..including the teeny little pink boots on the end.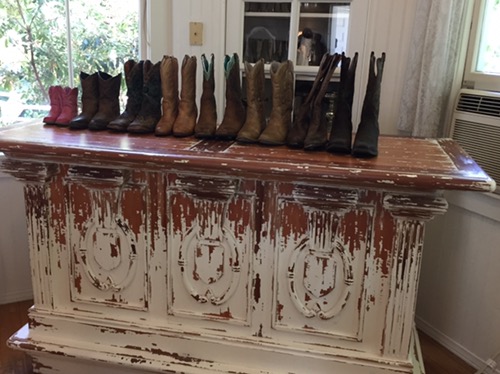 Auntie Dani's SHOES!!  Grace is a huge fan of shoes and loves to try them on. I am pretty sure she wouldn't stand a chance in these, though!
Below: Seeing my boys for the first time all dressed up. SO handsome!
Probably one of the sweetest moments was right before the pictures/wedding (Neal and Dani did a "1st Look" before the ceremony).  We were waiting in the hall for Dani to get her dress on, and Neal came out to use the bathroom.  Grace ran up to him and said 'Uncle Neal' — it was adorable. That little girl LOVES Uncle Neal.
Time to see the BRIDE!!! She was so beautiful.  I really had to keep mus f from really thinking about the whole thing a because I didn't want to cry. (I was still nervous about speaking IN the wedding ceremony!)
Trying to keep Grace occupied….special drink (sparkling cider).
Below: A couple of shots from Kristin's camera (Kym & Grace getting ready)